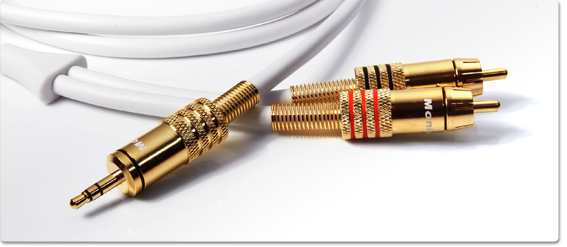 Clarity Audio Mini Jack to Phono
3.5mm Mini Jack to 2x RCA
Ultra high performance interconnect for connecting portable devices to your amplifier or receiver. Some of the many portables devices being MP3 Player, iPhone, iPod, iPad, Laptop, PC, CDs/DATs, MiniDisc and many more. Making your music, or your friends music always available, for fast hook up in seconds and played as it should be in ultra-clear definition.
Clarity Audio J2P is a serious upgrade cable and recommended for people who love music!
Integrating your portable devices for Home HiFi Performance!
Main Features
22 AWG Silver Plated 99.999% multi-stranded OFC Conductors

Twin coaxial spiral design for enhanced signal integrity

High coverage 95% OFC braid shielding

Low Density Polyethylene Dielectric

Super soft PVC jacket for enhanced flexibility

24k Gold plated RCA and Stereo Jack connectors

Durable metal shells with cable strain protectors

Monkey Lifetime warranty against manufacturers defect
3.5mm Mini Jack to Stereo Phono (RCA) Interconnect to connect your MP3 Player, iPhone/Pod/Pad, PC, Personal CD Player or any device with Stereo Mini Jack Output to your Amplifier or Receiver.
Available in 1.5m, 3m and 5m lengths.
For Sales and Enquiries please contact sales@monkeycable.com
Available UK and Worldwide
Those in the know, will know that every Monkey Cable utilises only the very best raw materials in all our cables and that we go through a rigorous process of build and test until we are finally satisfied that every cable is good enough to bare our logo.