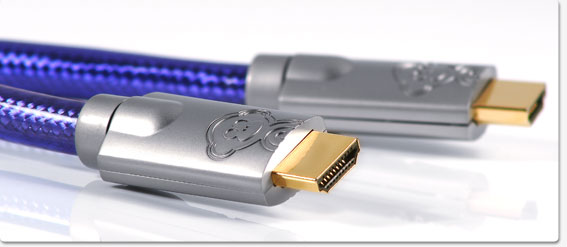 Clarity High Speed HDMI with Ethernet
For Next Generation High Definition
The Clarity - for those who want something very special. Our engineers' task when we commissioned the Clarity Series was to design a product range for the next generation of audio-visual equipment. With this in mind we took as a starting point the very highest standards attained today and asked ourselves where we can exceed these standards to best suit future technology advances. The result is the stunning Clarity.
Clarity HDMI Series is a true high-class performer and was specifically designed with the future in mind. With speeds up to 2160p and beyond coupled with our life time guarantee you know we are serious about this cable. Stylish, durable and more importantly stunning performance. This high performance cable is designed specifically for the most demanding systems.
With today's larger 40 inch and tomorrows even larger 100 inch TV screens in mind, the need to connect your Home Theatre with a high performance interconnect increases. As larger screens increase the pixel size, video imperfections become more obvious, increasing colour banding and contouring especially at the lower 60Hz refresh rates. At these immense bandwidth speeds the need for data integrity increases and the greater clarity of data received, the less compensation the TV needs to assume resulting in less video imperfection. Clarity HDMI has been designed for optimum data integrity.
For all your HD Ready products, this High Definition Multimedia Interconnect connects your Blu-Ray Player, HD Digital TV Receiver or Games Console to your AV Amplifier, LCD or Plasma TV or Projector.
Main Features
High Speed with Ethernet HDMI up to 2160P
Silver Plated 99.999% Oxygen Free Copper conductors
24 AWG conductors for improved signal transfer and enhanced integrity
Individually screened pairs for enhanced shielding from interference
3D ready for Dual Stream 1080P 3D at up to 240Hz
Full support for DTS-HD Master Audio & Dolby TrueHD Audio
48 bit x.v.Colour and faster 120Hz frame rates and beyond
Fully shielded conductors for ESD (Electrostatic Discharge) protection
Ethernet for Home Network Integration
24c Gold plated connection pins
Our Monkey Lifetime Guarantee
Available in 1.0m, 2.0m, 3.0m 5.0m 10.0m and 15.0m lengths.
Monkey Cable Clarity Series is also available in bespoke lengths up to 20.0 meters.
For Sales and Enquiries please contact sales@monkeycable.com
Available UK and Worldwide