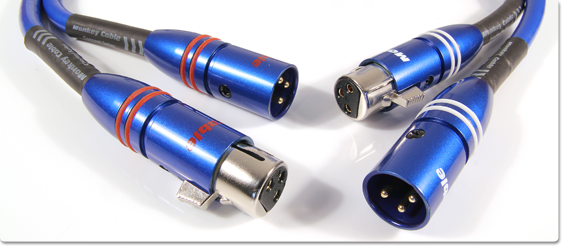 Concept Balanced Audio XLR
Balanced XLR Audio connections between Source Equipment, Pre-Amp and Amplifiers.
Studio Performance Balanced Analogue for Dynamic Vibrant Audio.
Concept balanced audio XLR interconnects adhere to the same quad-core design principle as found in all professional music studios. This quad-core or double balanced design with its two pairs of conductors minimises the "loop area" between twists of conductors to almost entirely eliminate electro-magnetic and radio frequency interference, so much so that it can be less than a tenth the level found in 2-core cables.
Quad-Core studio design maximises electro-magnetic and radio frequency noise rejection for pure brilliant sound.
Main Features
Quad-Core Pro Studio Geometry Design
4x 22 AWG Conductors - 19 AWG Per Channel
99.999% Oxygen Free Copper Conductors
Dual Shield Protection including 95% OFC braid
Quad Core twisted-pairs for studio level EMI/RFI rejection
24K gold plated XLR connector pins
Durable polished finish metal plugs
9.0mm OD
Available in 0.6m and 1.2m lengths
For Sales and Enquiries please contact sales@monkeycable.com
Available UK and Worldwide